Location:
Home
» Low Frequency Transformer »
Toroidal Transformer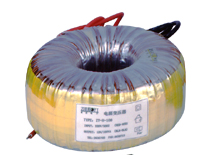 Characteristics &Application Rang:
This kind of low frequency transformers is made of high magnetic flow and low-loss high quality silicon sheet. It features little no-load loss, high output power, high efficiency, low temperature and low noise. It is used widely in VCD, Hi-fi audios and low voltage lighting.
PART NO. & DIMENSIONS LINE:
Some Parameters of Annular Transformer
Output power
External Dimension(mm)
Insulation Level
OD
ID
HT
30VA
81
28
32
B
50VA
85
30
38
B
80VA
100
32
40
B
100VA-150VA
110
34
52
B
150VA-250VA
120
36
53
B
200VA-300VA
127
40
59
B
300VA-400VA
130
45
62
B
400VA-500VA
138
18
63
B
500VA-650VA
146
50
68
B
650VA-750VA
155
52
82
B
750VA-1000VA
175
56
82
B
1000VA-1500VA
195
60
90
B
1500VA-2000VA
210
65
95
B
[Note: power and external dimensions of transformer may be designed to customers requirements.]