Location:
Home
» Filter Inductor »
SMD Inductor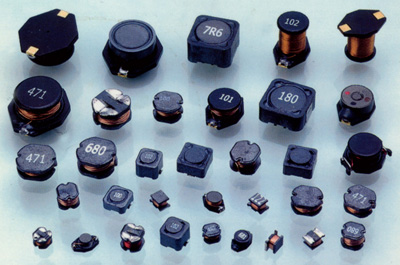 Characteristics &Application Rang:
The Surface Mount Power inductors are superior to be high saturation for large current. Low profile, low cost and high performance. Available on tape and reel for automatic insertion. They have a flat top and robust temperature deflection to prevent damage during solder refold. Suitable for reflow soldering. Available in magnetically shielded or unshielded version. Their high energy storage and very low resistance make them the ideal inductors for DC-DC converter and PDA. Available in 10 series with inductance ratings from 0.33uh to 47mH,these parts will handle currents up to 30Amps. In addition to the standard versions shown here, custom inductors are available to meet your exact requirements.
Power supply for VTR,LCD television set, Satellite receivers, Car audio systems, Mobile phone, Pagers, PDAs, Notebook Computer, OA equipments, DC-DC converters, Flash Memory Programers. Industrial machines, Portable communications, etc.
PART NO. & DIMENSIONS LINE:
Series
Part NO.
Dimensions in mm(inches)
Inductance Value Rang Rated
Current Rang
L
W
H
S
Y
CLN P1-6
CLN4532
4.5±0.3
4.0±0.3
3.2±0.3
1.2
1.0uH~1000uH
3.80A~0.08A
CLN5845
5.8±0.3
5.2±0.3
4.5±0.4
1.3
10uH~1000uH
1.44A~0.18A
CLN7835
7.8±0.3
7.0±0.3
3.5±0.5
2.1
10uH~300uH
1.44A~0.28A
CLN7850
7.8±0.3
7.0±0.3
5.0±0.3
2.1
10uH~470uH
2.30A~0.34A
CLN1040
10.0±0.3
9.0±0.3
4.0±0.5
2.9
10uH~560uH
2.38A~0.32A
CLN1054
10.0±0.3
9.0±0.4
5.4±0.4
2.9
10uH~820uH
2.60A~0.24A
[Note: power and external dimensions of transformer may be designed to customers requirements.]